Active ingredients
Leaves contain 10-20 % tannins, 15 % mucus, up to 150 mg % ascorbic acids, flavonoids.The plant is woody and oily, the leaves are used as a substitute for green tea. Many biologically active substances, tannin mucus, alkaloids, vitamins, trace elements were found in the leaves. Fireweed leaves contain the same amount of vitamin C as black currant.
Healing properties
In tradition medicine, Fireweed herb tea is used to treat a very wide range of diseases and is used for prophylaxis.
• Tea has a double effect on the nerves, i. balances the nervous system. In the absence of energy, or in order to gain a feeling of freshness, Fireweed herb tea tones, improves mood, and flatters the mind. Unlike green tea, Fireweed herb tea does not contain caffeine and can be consumed by people with high blood pressure. Positively affects the work of the heart. In case of irritation, to soothe the tea easily soothes. It can be taken at bedtime, helps to fall asleep more easily, also has an antidepressant effect, neutralizes aggressive mood. Tea helps with headaches, improves metabolism.
• Tea is suitable for prostate and urinary tract diseases. It has anti-inflammatory and anti-cancer effects. There have been many studies highlighting the benefits of Fireweed herb tea against the proliferation of malignant cells in the body and aids in preventing tumors. It is an excellent anticancer agent, especially suitable for the treatment of prostate diseases. Tea is also good for men to improve potency and the overall condition of the body.
• Tea is used in the treatment of gastrointestinal diseases, their wounds, helps with poisoning, reduces intoxication. Often used as an adjunct in the treatment of gastritis, colitis or gastric ulcer.
• After a cold, tea is perfect for use, strengthens the immune system, it can be drunk to relieve cough, promote sweating, and can rinse the throat in case of angina.
• Fireweed herb tea can be used externally. Decoctions can be made and used to treat psoriasis, atopic dermatitis or eczema, and to relieve the symptoms of irritated skin. After decoction or compression can be used in case of ulcers, bedsores, wounds that do not heal for a long time, protects the wounds from getting infected.
Studies have also shown other effects of plant extracts on the human body: analgesic, antimicrobial, antioxidant, anti-inflammatory and antihyperandrogenic, which also have a positive effect on the body's homeostasis.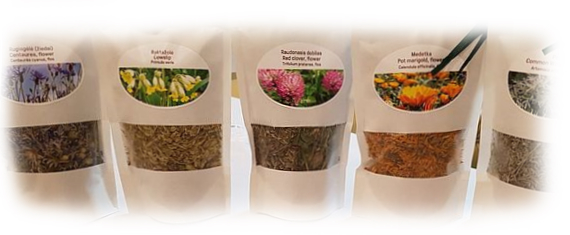 How to make a cup of tea:
The use of Fireweed herb-leaved tea can be unrestricted. It can be used both as plain tea and for prophylactic or therapeutic purposes. This tea should be boiled in water not hotter than 60 degrees, in no way boiling, so that the tea does not lose its healing substances. The same leaves can be scalded up to 3-4 times, and although the color of the tea will no longer be so intense, it will not lose its useful properties. Tea can also be used as a base for tea blends.
Preparation: Pour 1 teaspoon of tea leaves into a glass (200 ml) of hot water and keep covered for 10 – 20 minutes. Take off. For prophylaxis or treatment, drink 1 glass 3 times a day, or as a regular tea as needed. Children can make tea a little weaker, or dilute it with water.